The DBQ Project at NCSS 2018!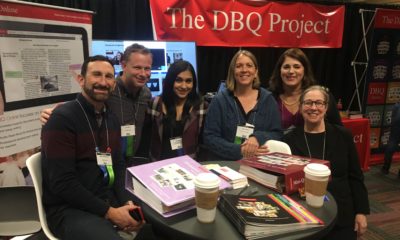 The DBQ Project recently attended the 98th NCSS Annual Conference. Held in Chicago, more than 4,200 attendees and 190 exhibitors were there from across the country. We enjoy attending NCSS each year and were grateful for the opportunity to exhibit and present at several different sessions.
Thank you to everyone who stopped by our booth. We loved getting the chance to connect with you!
We were able to show our materials to educators and also speak with them about their own experiences using the DBQ Project materials in their classrooms. It's always extremely enlightening to hear their experiences and how they've seen their students grow as a result of using DBQs and DBQ online. Check out the video and read the testimonials below to hear what they had to say about The DBQ Project!
Testimonials from Social Studies Teachers and Leaders Who Use the DBQ Project in the Classroom
"The students are truly leaning. They're taking ownership of the learning. And we see some really amazing results. It's helped our language arts scores, which we've been able to attribute to having The DBQ Project in the classroom."
– Terrie Welsh, Secondary Social Studies Specialist, Mesa, AZ, Public Schools
"The students recognize the rigor in the DBQ units, and they feel special partaking in them….It definitely makes them feel that I as a teacher view them as being smart, as being capable, as vital citizens in the world who are able to take on this rigorous task, which then instills in them a level of student advocacy and confidence that is just so important."
– Ashley Reyes, 7th Grade Social Studies, Chicago Public Schools
"The most amazing thing is a kid who may have struggled with a traditional assignment, when he does a DBQ Project unit, his confidence builds. They tend to not only do better in that class, but they do better in science, they do better in English-Language Arts. The DBQ Project experience has given them that confidence they didn't have before."
– Gregory Turner, Social Studies Content Specialist, Public School District 189, East St. Louis, IL
"When I was in school, DBQs were totally different. Teachers gave us a packet of documents and said, "Write an essay on them," without guiding questions and supplemental information. But what my students like about The DBQ Project is that it's scaffolded. It fits each individual student."
– Kelcey Wright, 8th Grade History, Clayton County, GA, Public Schools
"The instructional strategies already built into the units are fantastic. They build in how to grapple with primary sources. But also the bucketing and chicken footing – it's a natural scaffolding toward higher-level writing."
– Laura Franco, Social Studies I Coach, Cobb County, GA, Public Schools
---
About The DBQ Project
Founded in 2000, The DBQ Project supports teachers and students in learning to read smart, think straight, and write more clearly. We offer materials that help increase student engagement, while also challenging them to think critically. We also offer professional development workshops for teachers and supervisors to assist them in helping their students learn and grow.
Interested in learning more about our educational materials, as well as our online platform? Contact us today to request a demo!
« Back to Blog