DBQ Shout Out – Jake Wager, Des Moines PS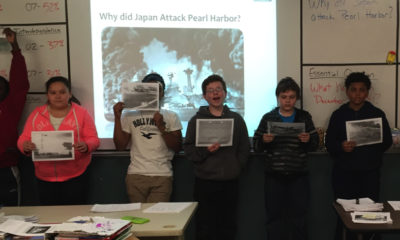 Why Jake loves DBQ…
I have been using The DBQ Project in my middle school classroom for over six years. My students at McCombs are incredible, and each year I get better at teaching DBQ. Each year my students perform at higher and higher levels. What I love about The DBQ Project is my students are actually doing social studies work. I have moved away from a textbook-centered classroom and into a document-based inquiry environment. I see tremendous gains in my students' reading and writing abilities, including my ELL students, special education students, general education students, as well as my gifted and talented students.
Cool teaching tip from Jake…
The DBQ Project also gives me a chance to teach every literacy and inquiry standard for seventh grade social studies. In addition to the thrash-out and multi-paragraph paper, I also have my students make foldables. The foldable sides are based on the buckets (evidence groupings). Each page discusses the central idea and provides a summary of the sources found in the buckets. The foldable also integrates visual information like charts, graphs, pictures, etc. with the print text. This allows me to quickly assess most literacy and inquiry standards.
Final words from Jake…
This is all I do in my classroom now. My teaching revolves around compelling questions in history. We use DBQ's from the beginning of the year all the way to summer break. I can't thank The DBQ Project enough for what you have done for me as a teacher and especially what you have done for my students.
Way to go McCombs Middle School students! You Rock!
« Back to Blog