A Conversation with Regina Wallace of Clayton County Schools
We spoke with Regina Wallace, K-12 Social Studies Coordinator in Clayton County, GA, at our national conference in July. She discussed how DBQ and DBQ Online are changing instruction in Clayton County Public Schools. Below are several excerpts from her interview.
Q: How has The DBQ Project helped shift instruction to more critical reasoning, thinking, and writing?
It's all about the process, not the product. These are foundational skills. So in Clayton County, we start in kindergarten, exposing them to the process. A lot of people think that kindergarteners can't do this; it's too complex. But if you go into a kindergarten class and say, "What color is better, red or blue?" they're going to start arguing. And then just ask them why? They're learning that you can have a claim or an opinion, and that's fine, but how do you support it?
Q: "Clayton has 66 schools. Large districts like yours often have trouble with keeping the fidelity of the process. What have you done in Clayton that has helped ensure successful and consistent implementation?"
We offered a professional development course called DBQ Boot Camp. It's a 10-hour course. It takes our teachers through the entire DBQ process. We have them complete a DBQ unit because in order to do these with your students, you have to experience it for yourself first. You have to struggle in order to see where students are going to struggle; you have to ask questions to know what questions students might ask. And we work out a step-by-step guide to implement units throughout the year.
Q: "How has the new DBQ Online platform helped reach your goals?"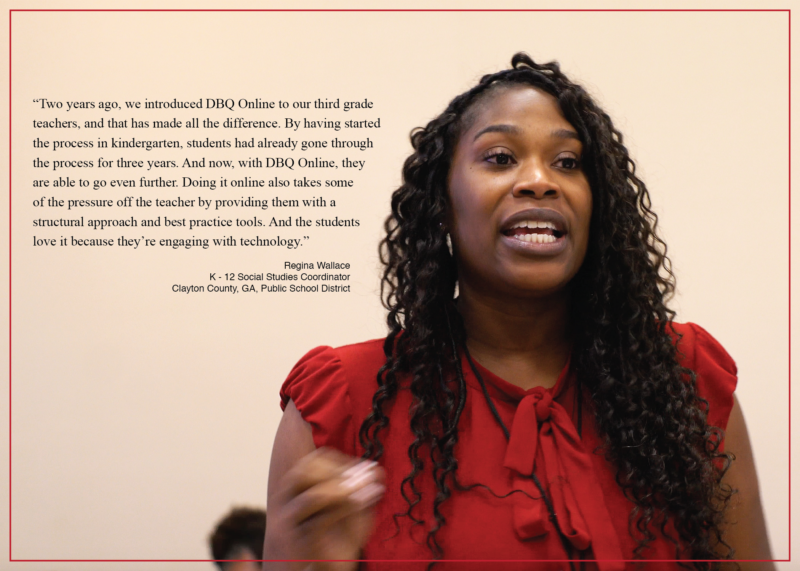 Two years ago, we introduced DBQ Online to our third grade teachers, and that has made all the difference. By having started the process in kindergarten, students had already gone through the process for three years. And now, with DBQ Online, they are able to go even further. Doing it online also takes some of the pressure off the teacher by providing them with a structural approach and best practice tools. And the students love it because they're engaging with technology.
---
We love hearing from teachers about their experience using the DBQ Project Method and materials in their classroom and are beyond excited when we hear proven success stories! Our professional development workshops and materials have transformed the way school districts across the U.S. comply with state and national standards in language arts and social studies classrooms.
Think your school can benefit from the DBQ Project? Contact us today to learn more!
« Back to Blog